We love a bit of recognition here at Aggressive Growth
By:

Kalynn Dresser
Date: August 11, 2017
Here at Aggressive Growth, we work really hard to make sure that we share comprehensive, useful and high-quality blog posts full of tips to help any size business. That means when we receive a spot of recognition we really appreciate it!
That is why we were more than just a little bit excited to receive a message from the founder of Feedspot, all about our blogging efforts.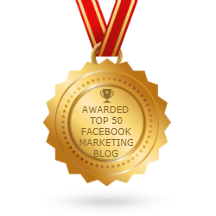 Who is Feedspot?
Feedspot offers a place where you can find all the very best blogs on the internet. Their recommended lists of blogs cover a wide range of subjects, meaning that no matter what you love, chances are that you will find it on the site.
Why this message was such good news:
So, wondering why we were so excited to receive this awesome message from Feedspot. Well, the message let us know that we had been selected as one of the top 50 Facebook Marketing Blogs on the entire world wide web.
Yep, that's right. Our blog was selected as one of the best out there in the world. Coming in at number 36, our blog was recognized for the support and advice that it gives for those who are looking to market their business effectively on Facebook.
This means that our expertise and knowledge in the area of Facebook marketing is being recognized along with industry leaders like Social Sprout and Social Media Examiner.
Get in touch with us today!
While we love to be recognized and applauded for our efforts, what we really thrive on is the fact that we can help people to make their business the success that they crave. We work hard to not only research the news and upcoming new trends in Facebook but also a range of other approaches to marketing too.
With our help, we hope to take businesses from a start up to a success story, and we will work with each and every one of our clients to ensure that they are given the exact help that they need.
We may be recognized as being one of the best Facebook Marketing blogs out there, but we don't want this to stop us from trying to grow and develop what we can do.
If you need some advice, help, or simply want to understand more about Facebook marketing, then take a read of our blog. A detailed and informative blog, it helps to make sure that you get the advice that you need!
Stand out from the crowd and aggressively grow your business with Aggressive Growth Marketing. The Growth Marketing Agency that provides Growth Hacking Marketing, Social Media, Guest Blogging, Email Marketing, and growth focused Digital Marketing Agency services. Call 020 7692 8960 to discuss your needs today.